Background
Store: PremiereCollectibles.com
Platform: BigCommerce (View Easy Upsell in the BigCommerce app store.)
Niche: Autographed Books
Upsell Type: Catch-All Upsell
Primary Lesson: Achieving strong conversions with sale items.
PremiereCollectibles.com sells autographed copies of books by actors, athletes, politicians, fiction authors, etc. They ship approximately 150k orders per year. In another case study, we looked at their use of the A/B testing feature on a trigger upsell.
This case study dives into their "catch-all upsell". The two months of the study cover two of their slowest months of the year (July/August), yet they still managed to get 146 conversions from their "catch-all" upsell alone. This represented a 4.41% conversion rate and generated $1,825 in additional revenue (as you'll read below, they're using discounted items for the upsell products).
Premiere Collectibles runs trigger upsells on all of their top selling products, so the "catch-all upsell" covers the long-tail of their product catalog and displays whenever a customer is going to checkout and doesn't have one of the top selling products with a trigger upsell in their cart.
Product Selection
Beyond generating extra revenue, Premiere Collectibles wanted to use the catch-all upsell to move excess inventory. They purchase a set quantity of books and sometimes they end up with excess inventory of titles after the book's popularity has passed.
They selected six books (shown below) that they could discount and offer in the catch-all upsell. Most of their orders are $30+, so $5-$15 for an upsell product is a pretty good range for a customer to potentially purchase one on impulse.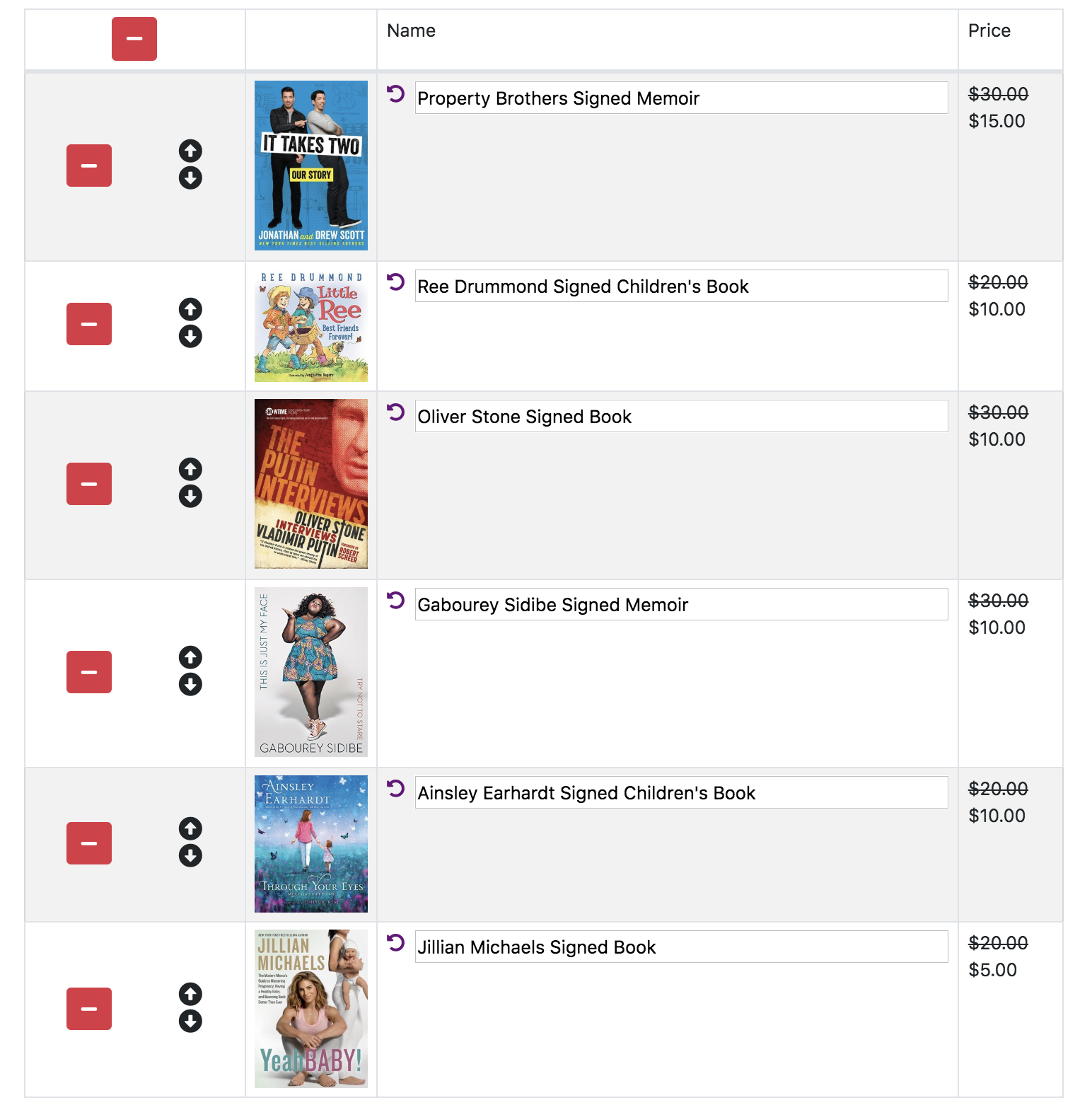 Instead of showing all six books to every customer, they used the settings to indicate that three books should display each time and that they should be randomly selected from the pool of six. Displaying three books is a good number because it avoids offering too many options to the customer and it allows the pop-up to display with the full product images so the customers can "judge the book by its cover".

Headline / Description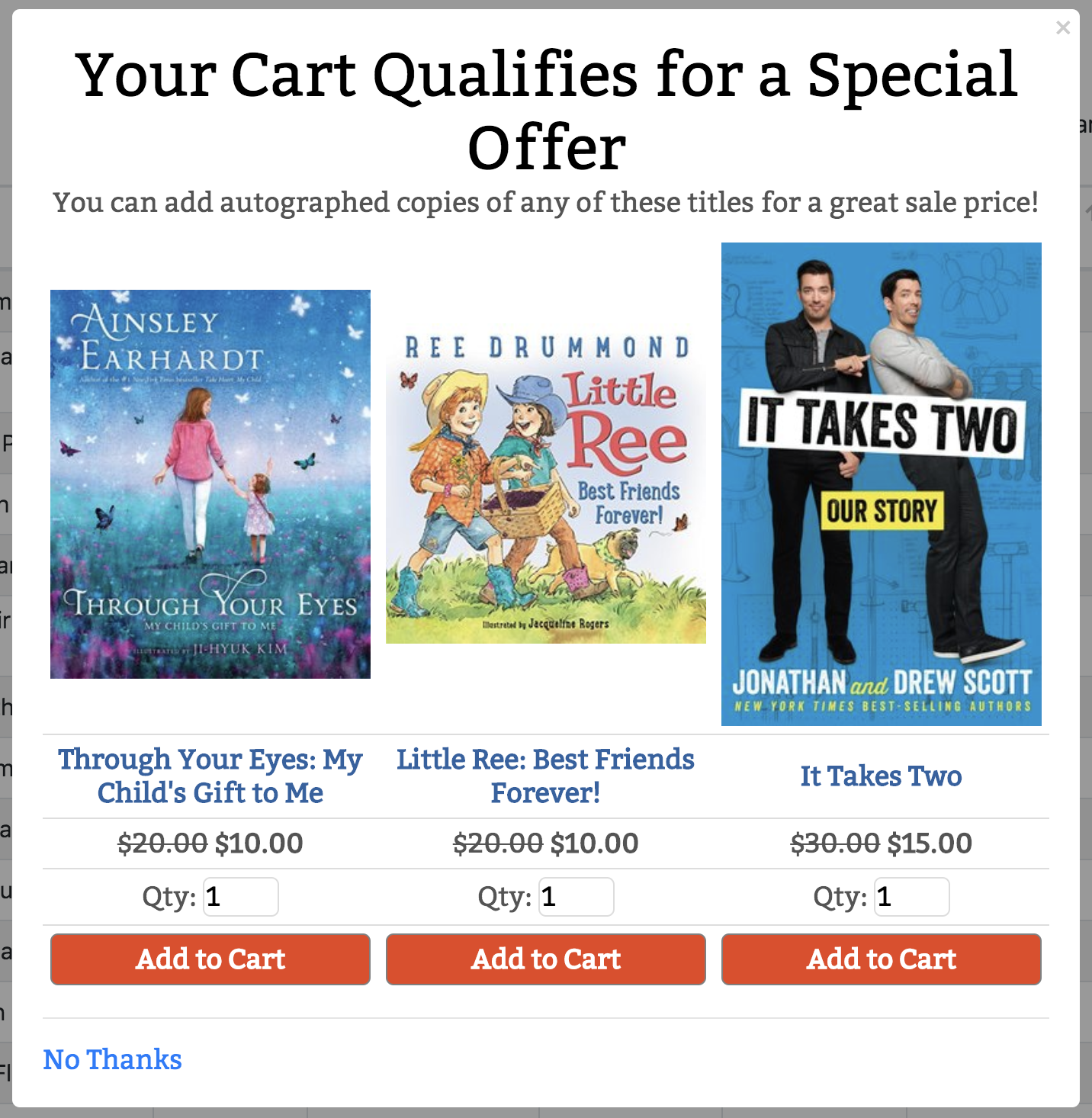 Since all the selected products are being offered at a discounted rate, they chose to use the headline "Your Cart Qualifies for a Special Offer". The description simply reads: "You can add autographed copies of any of these titles for a great sale price!"
Since they chose to only display three products at a time, the products display with large product images. If they had chosen to display 4-6 products at a time, they would have appeared in a list format with smaller images.
Analysis

This simple format is working well for them. A 4.41% conversion rate is pretty good here considering that the "catch-all" pop-up type is not heavily targeted like the other upsell types.
Since the products here are less targeted, it was important to offer a lot of value in the form of a heavily discounted product. Since the product was a good deal, 4.41% of customers who saw this upsell purchased at least one extra product on an impulse. If the upsell products weren't on sale and were closer in price to the cart value, it's likely that the conversion rate would have been much lower.
Using the "catch-all" pop-up simply to move excess inventory isn't the best move for all stores. It's good for Premiere Collectibles because they only have a limited quantity of each book and, when they sell out, they typically sell out forever. Other stores who manufacture their own products or sell the same products on an ongoing basis may find it more valuable to use the catch-all pop-up to promote some popular inexpensive items that would make good impulse buys.
Either way, the catch-all upsell is a very valuable tool for maximizing all of your order values.