---
Increasing the average order value is one of the best ways to increase revenue in an eCommerce store. Customers are expensive to acquire, and it's much cheaper to get acquired customers to spend more money than it is to acquire new customers (though you should obviously be doing both).
This case study will take a peak behind the curtain of PremiereCollectibles.com's successful upsell campaigns through the Easy Upsell app on BigCommerce. Premiere Collectibles sells autographed copies of newly released books by celebrities, athletes, fiction authors, etc. In the month of September, they generated $30,427 of upsell revenue. (That's $30,427 in upsell products alone, not the total value of the orders.)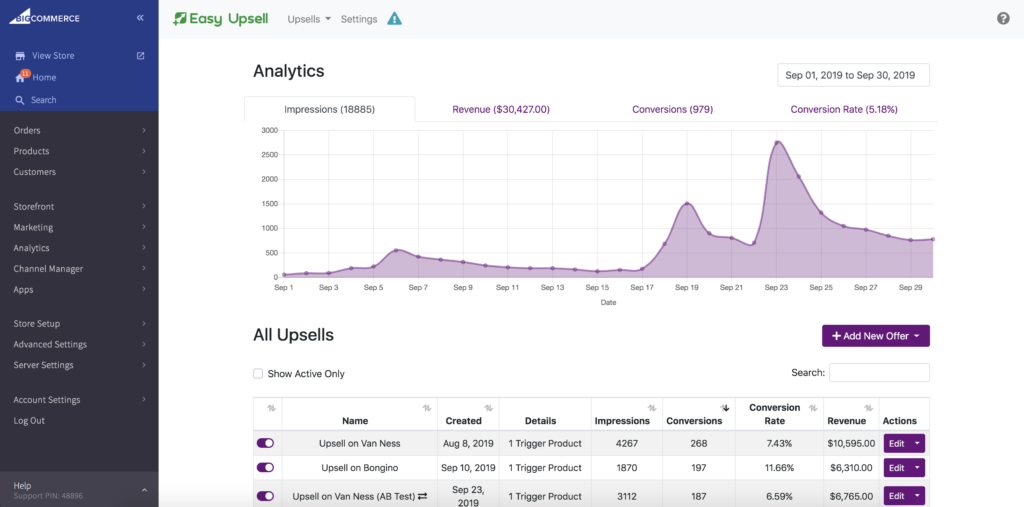 Screenshot of Premiere Collectibles' Easy Upsell dashboard for the month of September.
As shown in the screenshot above, Premiere Collectibles' upsells were shown 18,885 times during September. 979 of those impressions resulted in a customer adding one or more products to their order and completing checkout. This represents a conversion rate of 5.18% and the revenue from the upsell products totaled $30,427.
We'll now dive into the upsells that Premiere Collectibles was using. The screenshot below shows all the upsell campaigns that had 5 or more conversions for the month.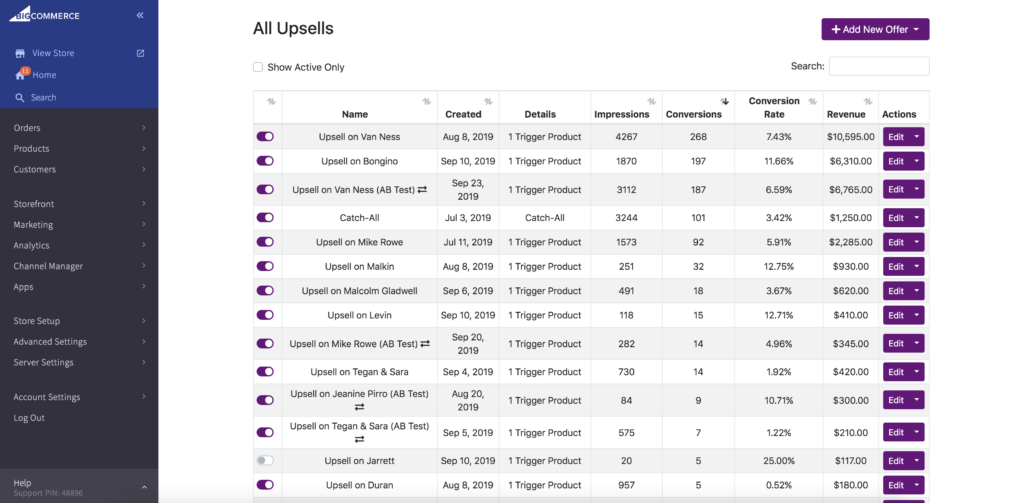 The first thing to note is this store's use of the "catch-all upsell". The catch-all upsell type is an optional upsell that will show if there is not a relevant trigger upsell or cart-range upsell for the products in the cart.
For its catch-all upsell, Premiere Collectibles promotes several different books that it has on sale. They currently have five products in their catch-all upsell rotation, and they've set the catch-all upsell settings to show a maximum of three of these products at as time at random. The screenshot below shows an example of their catch-all upsell pop-up.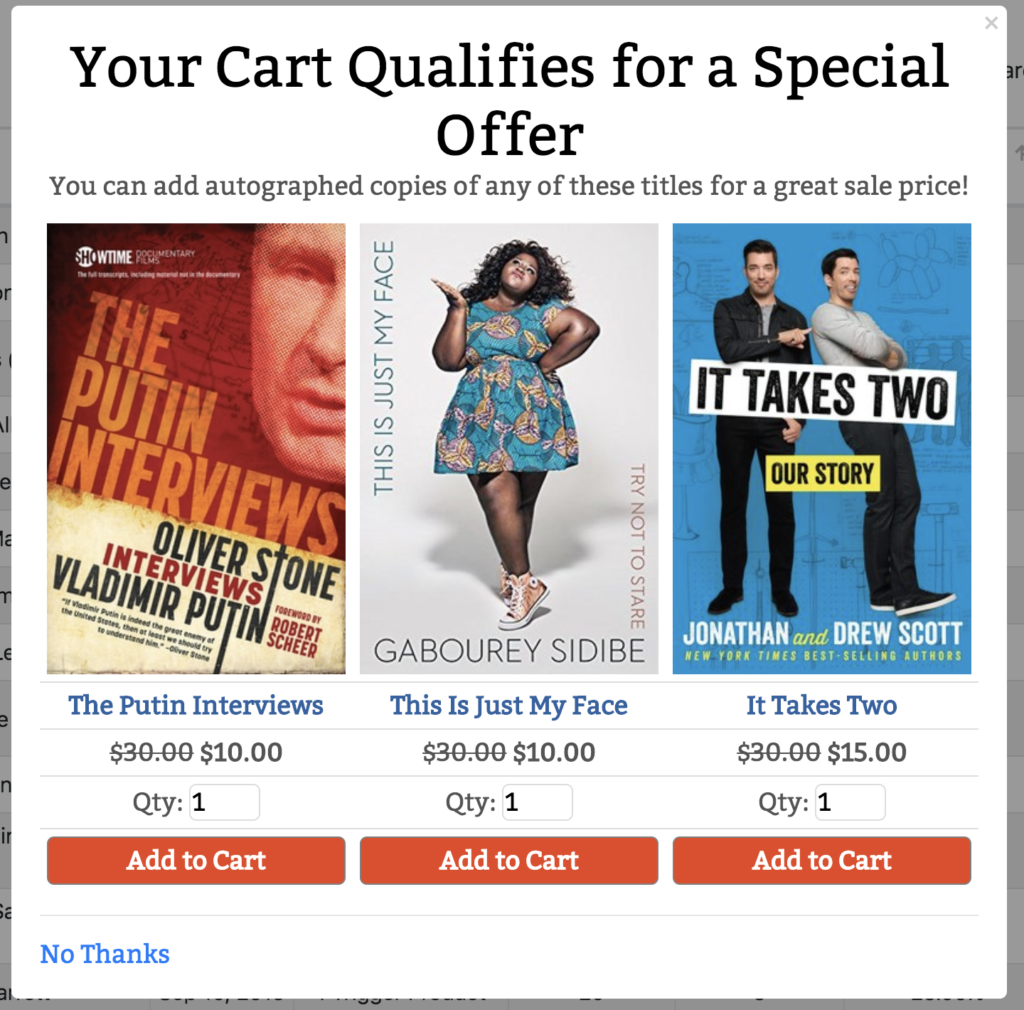 In the pop-up shown above, note the use of the headline "Your Cart Qualifies for a Special Offer". For upsells that are set to trigger upon checkout, this simple phrase is among the highest converting for many of the stores that use it.
Beyond the catch-all upsell, Premiere Collectibles uses trigger upsells to promote related books on some of their current bestselling titles.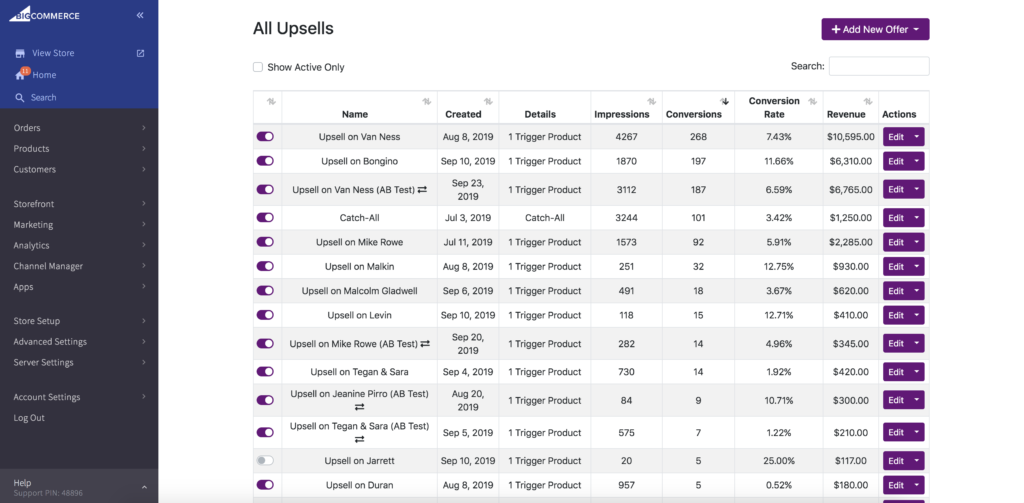 The upsell pop-up below was the highest grossing upsells for Premiere Collectibles in September. Their top selling book in September was "Over the Top" by Jonathan Van Ness who stars on the Netflix series "Queer Eye". Premiere Collectibles happened to also have autographed books by three other cast members on the series. They used this upsell to promote the books in a simple way. Between their original upsell and their A/B test, they generated $17,360 in upsell revenue from this one trigger upsell.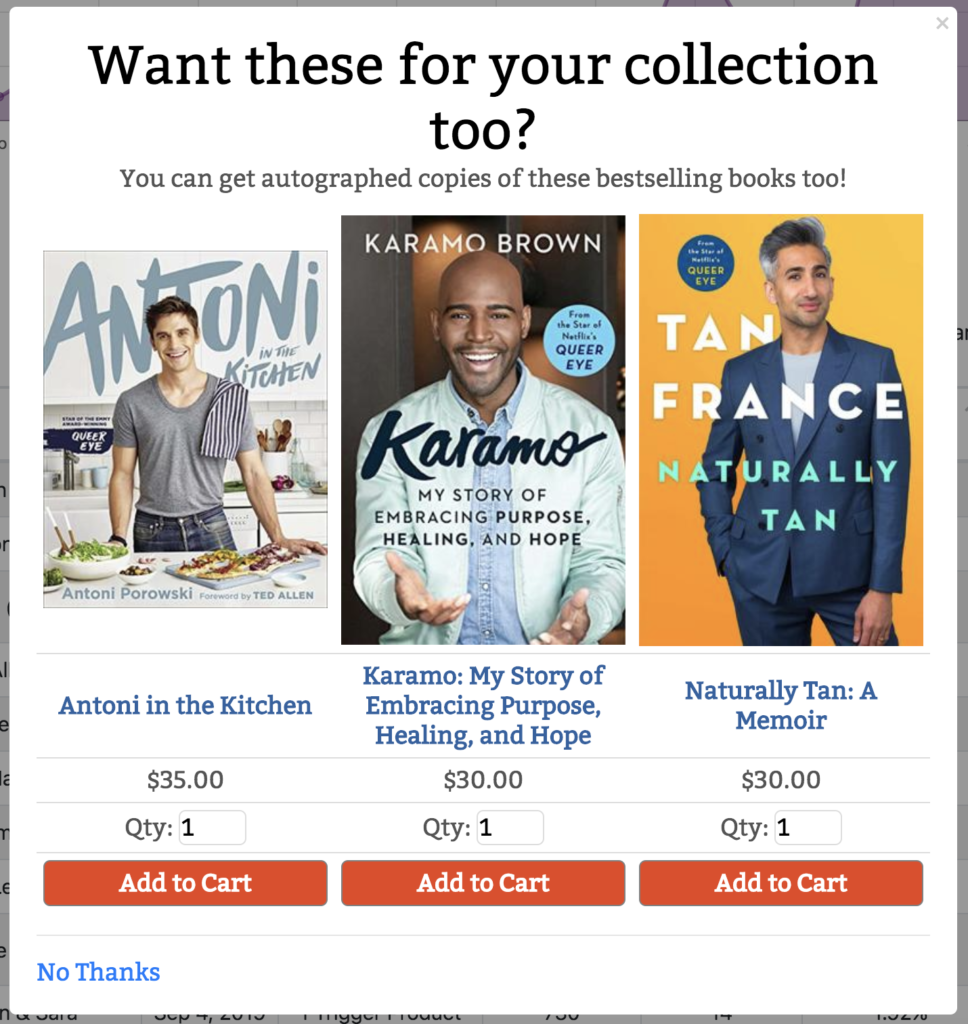 An important thing to note about the upsell above is that it is not promoting discounted items. All the products being promoted are of equal value or more expensive than the $30 Jonathan Van Ness book. However, because it was a very relevant suggestion, about 7% of customers buying the Jonathan Van Ness book bought one or more of the upsell books simply because they were informed that they were available.
Premiere Collectibles uses the same principle that they used for Jonathan Van Ness's book in most of their trigger upsells. The upsell pop-up below was their second highest grossing upsell of the month. It was a trigger upsell on signed copies of a book by American political commentator Dan Bongino. People who like Dan Bongino are also likely to like the other political commentators featured in the upsell. Nearly 12% of customers who purchased the Dan Bongino book purchased one or more additional books from this pop-up.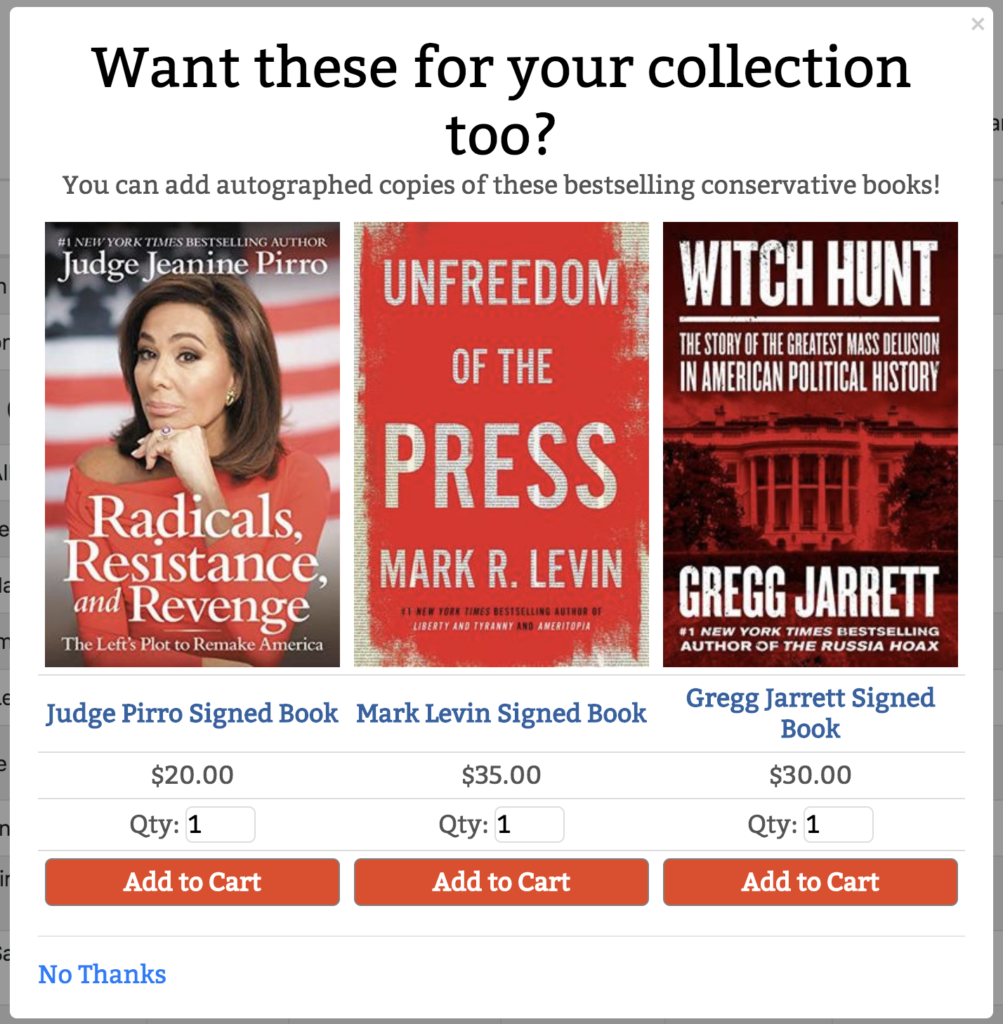 This relatively simple formula of recommending related books each time someone goes to checkout resulted in the $30,427 of additional revenue for Premiere Collectibles. No matter what type of products you are selling, you should be able to find relevant products to promote. You can read this guide to learn more about the factors that make an upsell successful to learn about other types of upsells you can make.